ROBBO'S BIG JOB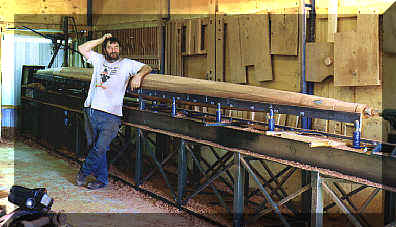 WHY THE HELL AM I DOING THIS?
In 1999 Ian (ROBBO) Robertson of Cob & Co Woodturning got himself a big job to do for the University of Sydney (New South Wales, Australia). It consisted of a number of very large turned posts, the largest being 8.9 metres long x 300mm diam and weighed a little over 1 tonne. The order consisted of 16 of these large posts, 16 x 6 metres 16 x 4 metres & 16 x 2 metres.
Robbo's specially built, heavy duty, 13 metre long lathe, which he had recently constructed was about to be christened. The photo's on these pages give you a brief glimpse at the largest of the pieces and some of the statistics involved in turning them.
Click on any of these thumbnails to get the big picture





There's more to come, so why not bookmark this page, and come back again soon.
Cobb & Co Woodturning
2 Bayview Road, Toradin, Victoria. 3980. Australia.
Phone: 03 5998-3614 Fax: 03 5998 3074
E-mail: ozwoodturner@bigpond.com
Copyright © 1999 U-Beaut Enterprises ®
This site was last modified: Sunday, 25 October 2009