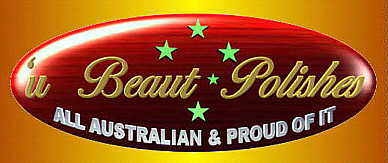 'u Beaut Polishes is dedicated to producing polishing products for woodturners, woodcarvers, restorers and general woodworkers. Our products are easy to use, innovative, work better, and faster than others of a similar kind. They are also great value for money.
Over the past couple of years our products: Shellawax and Shellawax Cream have served to quietly revolutionise finishing for woodturners in Australia.


At 'u Beaut Publishing we produce 'A Polishers Handbook' which over the past few years has become almost a bible for finishing in Australia. We also produce the National Woodworkers Calendar & Source Book, Woodies Diary & Instructional Videos .

For 13 Years Central Victorian School of Woodcrafts has been conducting Adult Courses in: Woodturning, Woodcarving, General Woodwork, Finishing & Restoration etc.